About Cruise of YOKOSUKA Naval Port
Notes
Cruise of YOKOSUKA Naval Port

Cruise of YOKOSUKA Naval Port often gets crowded on weekends and holidays, we highly recommend reserving tickets in advance.

About Boarding

Please notify us in advance for any customers with special needs, such as wheelchairs, accompanied by assistant dogs. We are happy to assist every customer in need where possible.
Unique cruise with a view of Japanese and US vessels
Yokosuka Port has been developed as a naval port since US Fleet with Commodore Perry arrived nearly 160 years ago. This port is famous for US Naval Base (Yokosuka Port) and the headquarter of JMSDF (Japan Maritime Self-Defense Force) (Nagaura Port) located next to each other. TRYANGLE offers unique local tour, Cruise of YOKOSUKA Naval Port daily. This is one and only unique tour available in Japan to view JMSDF and US Naval ships up close.
※ Cruise route is subject to change.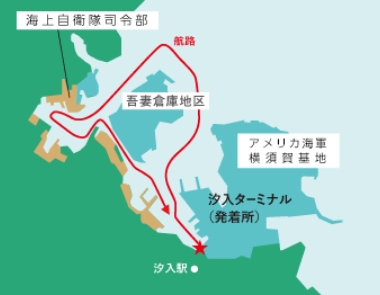 Key charms of Cruise of YOKOSUKA Naval Port
Start your trip with the atmosphere of good and old YOKOSUKA!
A Non-commissioned Officer's Mess (aka EM Club, Enlisted Men's Club) was once located in front of Shioiri station. (Currently Mercure Hotel Yokosuka) We have recreated the EM Club interior at Shioiri Terminal, to give historic exotic feel inside. Why not enjoy few drinks while waiting for the ship to arrive with good and old YOKOSUKA atmosphere?
Reserved tickets payment and pick up, and also walk-up tickets and souvenir item purchases are available here.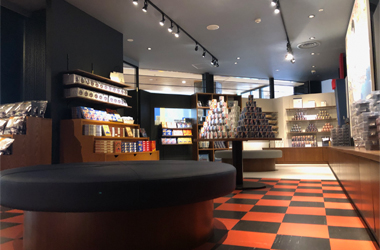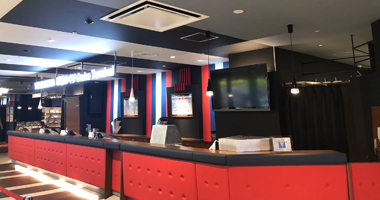 Powerful views of JMSDF and US Naval Vessels from the Oceanside!
Many different kinds of vessels can be viewed during the cruise. JMSDF (Japan Maritime Self-Defense Force) submarines and escort vessels, US Naval Aegis destroyers and cruisers, and depending on the time, aircraft carrier, icebreaker vessel (an Antarctic research vessel), and so many more. Cruise with the view of vessels that changes daily is a unique charm of Yokosuka!
※Description is solely based on what can be viewed on that day, we never receive / tell any information of ships' schedule.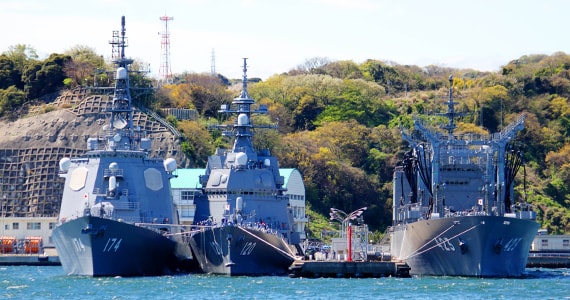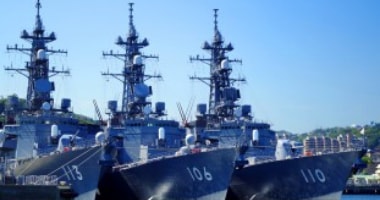 Feeling Lucky?
You might find
some rare ships!
Different navigators available daily to give real time description of the view!
Not too familiar with ships? No worries, our dedicated navigators will give you real time detailed description of the view! Superior 45 mins cruise with the unique and friendly guides. They will explain you the vessel names, roles and history, even the tourism information in fun and unique ways.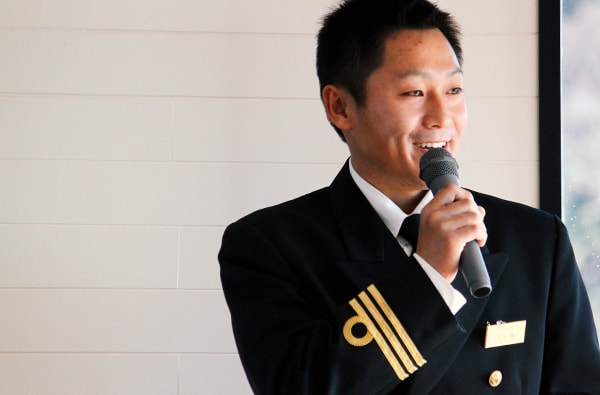 A guide changes
depending
on the service.
Feel the 150 years history of Yokosuka Ironworks and Naval Port!
The US Naval fleet with Commodore Matthew Perry (aka Kurofune the black ships) came to Uraga, Yokosuka in 1853. During that period, Japan was under the isolationist foreign policy by Japanese Tokugawa shogunate (aka Bakufu), and the order such as Edict and Repel Foreign Vessels were placed. However Oguri Kozukenosuke who was a commissioner of the finance of Edo Bakufu believed Japan as an islands country urgently needs modern Naval system, in order to stand fair and equal position against foreign countries. He convinced Edo government and hired Leonce Verny the French naval engineer as a construction director, and built Japan's first modern comprehensive factory "Yokosuka Ironworks" in Yokosuka where it's close enough to Edo and has less effect from ocean waves in 1865.
After nearly 150 years, Yokosuka has developed as one of the leading Naval port in the world.
The leading technologies and the remaining facilities are still used in many places and Yokosuka became the modern military port with many vessels moored there daily.
JMSDF Curry and many other souvenir items available to purchase!
Don't forget to check out our various souvenirs, available to shop before and after the cruise at Shioiri Terminal! At the Shioiri terminal, there are many souvenirs. One of the most popular items are JMSDF curry, they are accurately reproduced based on each vessel's curry recipe eaten by JMSDF sailors every Friday.
Some items can only be purchased at our Shioiri Terminal such as "Naval Port Cruise Rice Crackers", "JMSDF Shochu", "Dry Dock Beer" "Submarine Pen" and so on. Come shop with us to take home the memory with you!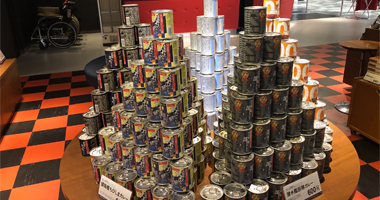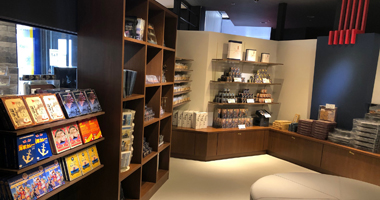 Notices and Disclaimers
No pets allowed onboard. (Except service dogs.)
No flag, banner or pennant should be flown, held or placed during the cruise.
Items that may endanger the safety of the vessel operation or other customers, are not allowed on board.
Please follow the instructions of the caption and the crew during the operation.
Cruise course is subject to change when there is construction or Naval vessel is underway, in order to help smooth operation of JMSDF and US Navy.
Customers strongly under the influence of alcohol maybe asked to come off the ship.
In case of using the GPS Navigation system, enter our address "Kanagawa-ken, Yokosuka-shi, Honcho 2-1-12" instead of the reservation phone number.